Weekend Guide to Las Vegas
A weekend in Las Vegas leaves one with no shortage of entertainment. It can be almost too overwhelming to navigate the sea of casinos, restaurants, shows, and everything else this city has to offer. For a near-perfect Vegas trip, it's best to pace (and indulge) yourself with a balance relaxation and fun. Whether it's a bachelorette party or a weekend with the family, there is always something here for everyone: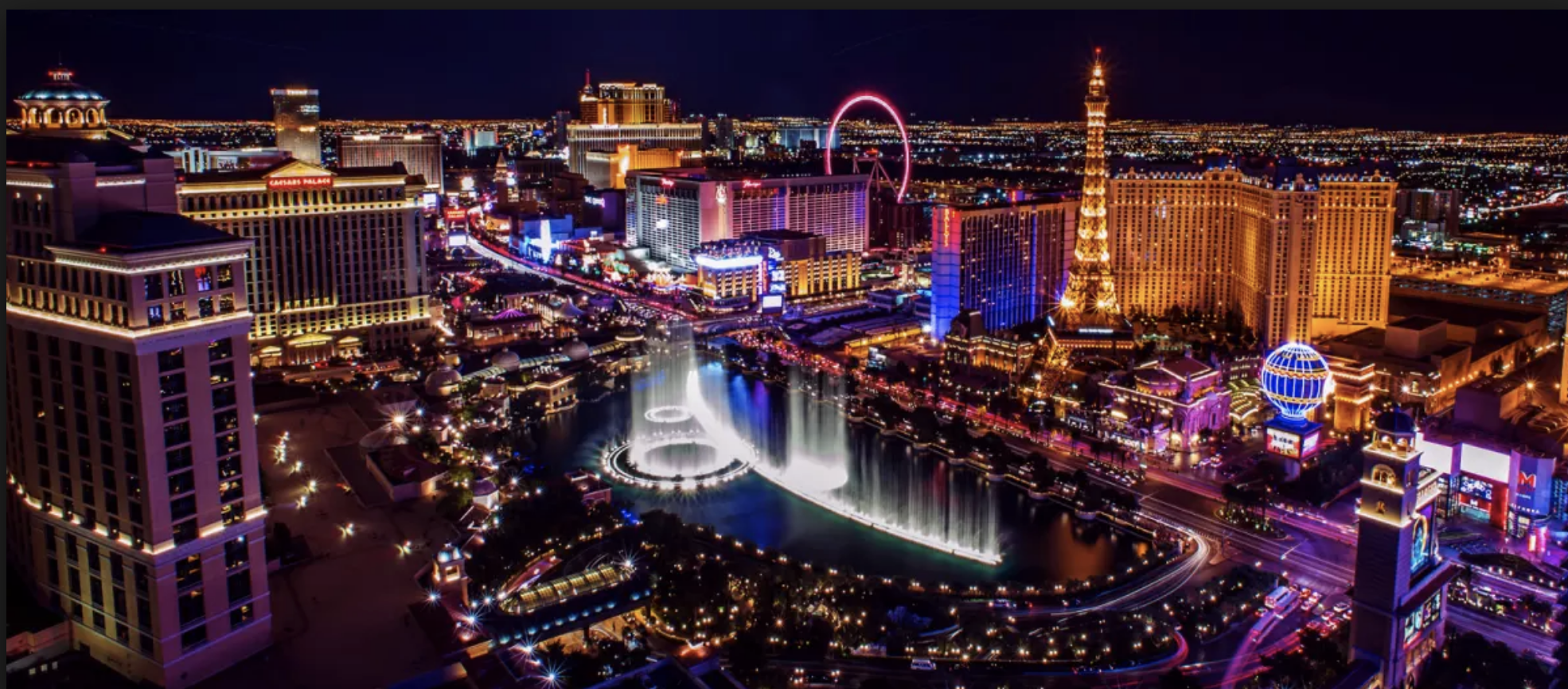 The Strip
Start with The Strip (there's nothing like seeing it in person). It's 4-mile stretch is filled with busking dancers, oversized-margaritas, and amazing people watching, so you'll want to leave your schedule open. The Bellagio is a great place to begin – think your quintessential casino, complete with piano players, fancy restaurants, the most famous poker room in Vegas, and a high-end shopping area. With a mesmerizing fountain show of water, music, and lights that happens every fifteen minutes, you could really stay here all day. The Venetian is another go-to casino spot. It's both classically beautiful in that only-in-Vegas way, and the famous gondola ride is a must-try.
If gambling isn't your game, you have even more reason to lounge poolside with no agenda and soak up some Vitamin D. Encore Beach Club is the spot for a guaranteed amazing pool party. The Daylight Beach Club at Mandalay Bay is another great option, though a bit smaller compared to other clubs. Their cabanas are perfect for hanging out all day though (especially if there's a show happening, which there probably is!).
It's your first night there, so treat yourself with one of Las Vegas' many foodie-favorite spots. Giada at The Cromwell is a super chic choice if Italian food is your game (plus, it's run by celeb chef Giada De Laurentiis). Lago at The Bellagio serves tapa-style plates that are perfect for sharing, so you can try a bit of everything. (It also has the best seat for the fountain show!). And if you're feeling extra hungry (this is incredibly possible with all the wandering you've done!) the Bacchanal Buffet at Caesars Palace was ranked the number 1 Las Vegas buffet by USA Today. So dig in!
Outdoors & Site-Seeing
A part of experiencing every great city is exploring what's only a short car-ride away. Fuel-up with a sandwich from Eggslut (seriously, they have the best egg sandwiches. Ever.) and hit the road. You'll need a car that can handle the desert to travel to one of the trendiest spots – Seven Magic Mountains, a large-scale art installation of 7 colorful boulders standing more than 25 ft. high. This is one the best place you can take the kids for a quick visit with some incredible views. If you're looking for more nature than art, head west and drive the scenic loop through the Red Rock Canyon National Conservation Area. There are plenty of hiking trails (the most scenic being the Las Vegas Overlook), many that lead to great views of the Las Vegas Valley. Hoover Dam and Lake Mead are also nearby by car. Just thirty-five miles south of the city, you'll meet the massive curved wall that is Hoover Dam. Towering at 726 feet above bedrock, it holds back over 9 trillion gallons of water in Lake Mead, making it the country's largest reservoir.
Since you have the car, visiting one of the seven wonders of the world simply must be an option (Hoover Dam is also on the way!). The drive to the Grand Canyon can take 2-4 hours depending on which rim you want to visit, but you'll see plenty of beautiful desert scenery on the way. Once at the West Rim, take advantage of your opportunity to literally walk over the Grand Canyon on the Skywalk. Made of three-inch-thick glass, you can look down and see the base of the canyon 4,000 feet below. Continue onward towards the South Rim, where the views are definitely worth seeing, even if your time there is brief. If time allows, hike down into the canyon for a new perspective (but be sure to pack plenty of water!).
Once back in Vegas that night, you'll need to reward yourself with a much-deserved meal. Mr. Chow at Caesars Palace is the ultimate in all-things luxe, champagne cart, and everything luxury. The Twist at the Mandarin Oriental is another Vegas hot-spot, featuring great views of The Strip and French fare.
Fremont Street
You've now seen the strip, and that what happens in Vegas doesn't have to stay in Vegas. Take advantage of your last day to venture a little further downtown to Fremont Street, a kitschy (and cheaper!) version of the Vegas you've experienced so far. Known as "Old Vegas," this area contains the original casinos, including El Cortex, Golden Gate, andGolden Nugget (where you can see the famed shark tank!). Start the Mob Museum, where you can learn the history of the city's roots. Before the rise of mega-resorts, the mafia controlled majority of the city, and the museum does a good job of telling that story. Another museum worth your time the Neon Museum – it's outdoor lot is filled with vintage Vegas signs, from quirky businesses to old casinos. Beyond museums, this street is filled with restaurants, bars, shopping, and art. If you're lucky enough to be there at the beginning of the month, you'll get to experience "First Fridays," a monthly art festival that celebrates local artists, musicians, and foodies.
It's your last night, so ball out with a show. The Blue Man Group or one of the Cirque shows will never disappoint. Then, hit up XS Nightclub which is known to host David Guetta, Alesso, The Chainsmokers, plus more. Club-hopping is strongly encouraged, and The Marquee in The Cosmopolitan and TAO are both also always popular.
After all, this is Las Vegas, and there are endless events and attractions to do your family while you are here.